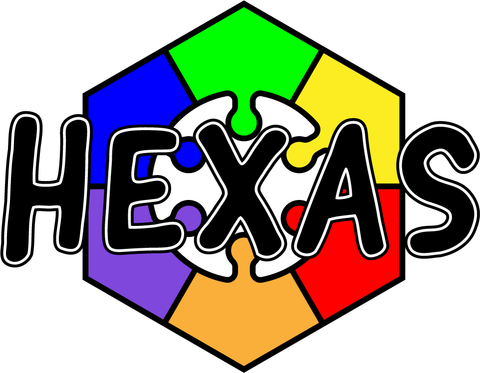 Hexas Puzzle Series: Reinventing The Jigsaw
Introducing our new Hexas puzzle system, where innovation interlocks with tradition to revolutionise your puzzle experience. Break free from the conventional with our pioneering hexagon-based grid system, a fresh take on the classic jigsaw puzzle.
Hexas is a collaboration between Mr Bob Puzzles and Joey Llama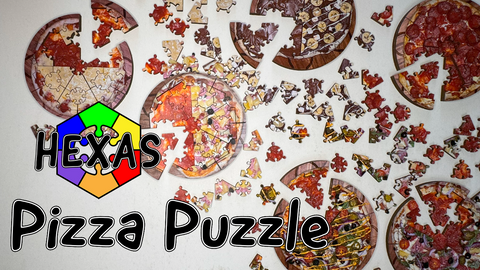 Mr Bob Puzzles - Wooden Jigsaw Puzzles
Hexas: Pizza Puzzle - The Works - Wood Crafted, Double Layered, Jigsaw Puzzle.
Tomato Sauce, Cheese, Ham, Pepperoni, Prosciutto, Red onion, Cherry tomatoes, Pineapple, Jalapeños, Black Olives, Rocket, Mushrooms and Chilli Flakes
View product details
Mr Bob Puzzles - Wooden Jigsaw Puzzles
Hexas: Pizza Puzzle - Pepperoni - Wooden Crafted, Double Layered Jigsaw Puzzle
Tomato Sauce, Pepperoni, Cheese and More Pepperoni
View product details
Mr Bob Puzzles - Wooden Jigsaw Puzzles
Hexas: Pizza Puzzle - Spicy Veggie - Wooden Crafted, Double Layered Jigsaw Puzzle
Tomato Sauce, Cheese, Red onion, cherry tomatoes, Jalapeños, Black Olives, Rocket, Mushrooms, Chilli Flakes and Spicy Mayo Dizzle
View product details
Mr Bob Puzzles - Wooden Jigsaw Puzzles
Hexas: Pizza Puzzle - Hawaiian - Wooden Crafted, Double layered Jigsaw Puzzle
Tomato sauce, Cheese, Ham, Pineapple, Olives
View product details
Mr Bob Puzzles - Wooden Jigsaw Puzzles
Hexas: Pizza Puzzle - Cheese - Wooden Crafted, Double Layered Jigsaw Puzzle
View product details
Mr Bob Puzzles - Wooden Jigsaw Puzzles
Hexas: Pizza Puzzle - Chocolate Banana - Wooden Crafted, Double Layered Jigsaw Puzzle
Hazelnut Spread, Banana, Mini Marshmallows, White Chocolate Drizzle
View product details
Mr Bob Puzzles - Wooden Jigsaw Puzzles
Hexas: Aperiodic Einstein Tile Wooden Jigsaw Puzzle -30 Tile
View product details
Mr Bob Puzzles - Wooden Jigsaw Puzzles
Hexas: Aperiodic Einstein Tile Wooden Jigsaw Puzzle - 15 Tile
View product details